Investor Day Presentation Design
For IROs, getting your Investor Day presentation design and story right is critical for success. 
After all, your Investor Day presentation gives you a rare opportunity to control the story you want to share with investors, analysts, and the media. And that story, of course, can move stock prices significantly and affect the long-term perception of investors.
Is your Investor Day slide deck up to the task? 
IROs spend hundreds of thousands of dollars on these events—but presentation design often gets left to the last minute.
With so much at stake, many Investor Relations Officers (IROs) delegate the specialized, time-intensive work of presentation design to Outkreate. 
You're already wearing multiple hats—tackling event coordination, attendee invitations, and managing your leadership team to make your Investor Day a resounding success. Why add more to your plate by trying to develop and design slides on your own? 
If you're ready for an Investor Day presentation that works, book an introductory call—or keep reading.
IROs at Major Public Companies
Trust OUTKREATE
Investor Day Presentations Best Practices
Incorporate 'Steak' and 'Sizzle' to maximize impact
Crafting a winning presentation for Investor Day is crucial for every IRO. The key to success is striking the right balance between 'steak' (substance) and 'sizzle' (style).
We shared this "talk" at the 2023 NIRI Annual Conference in Chicago, and it was received well by attending IROs. 
Discover the essential ingredients for 'steak': identify your main message, structure your Investor-day agenda and story, and create easy-to-digest slides.

Learn to incorporate 'sizzle' via modern, visually appetizing design. Real-world slides will be shared to bring the learnings home.



Download and  get a winning recipe for your next Investor Day presentation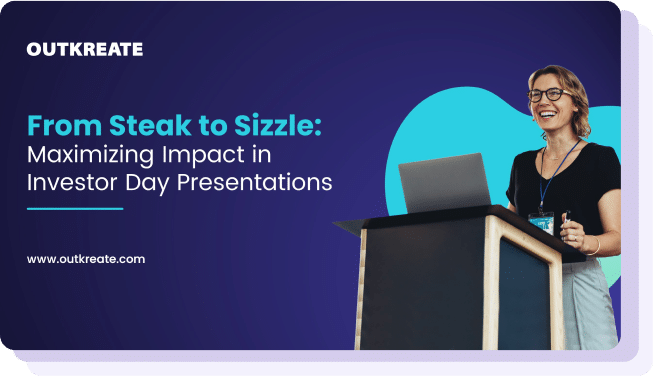 Smart IROs Delegate Investor Day Presentation Design
If you're an IRO, we want to help you deliver a successful Investor Day by taking some of the work off your plate. Leave the presentation design to us—so you can focus on higher-value tasks.
Here's why IROs delegate Investor Day presentations to us:
We understand analysts and investors
Having worked with IROs on high-stakes presentations (from clear Earnings slides to immersive Investor Days), we understand your audience of analysts and investors. We know their preferences for storytelling and aesthetics and put those into action when designing presentations.
We also enhance story and messaging
Besides visual design, we'll advise you on how to incorporate your key messages and help you refine your presentation's story and structure. We'll also make your content more straightforward and easy to digest.
We free up your time so you can focus on the big picture 
We free up your time so you can achieve the bigger goals you're most equipped for—influencing your C-suite, interacting with analysts and investors, and staying focused on the strategic outcomes of your Investor Day.
"The OUTKREATE team took a very thoughtful and strategic approach with all our Investor presentations. They delivered smart and on-brand storytelling. Everyone loves the design and how the slides bring the story to life!"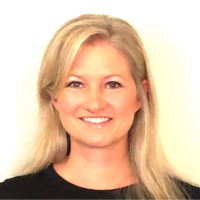 Shelly Hubbard
VP Of Investor Relations
Vista Outdoor
"OUTKREATE redesigned ITT's earnings release and 2022 investor day presentations. They created a modern, minimalist style for the presentation that matched the simple style our CEO desired. Our stakeholders were impressed by the sleek design and clear messaging. We have since deployed the new look throughout our IR materials. Highly recommend the OUTKREATE team."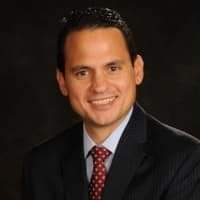 Mark Macaluso
VP, Investor Relations
ITT Inc.
"For AWI's 2022 Investor Day, OUTKREATE delivered slides that were clear and visually engaging, and successfully communicated to our audiences. With OUTKREATE doing the heavy-lifting on slide-design, my small team was able to work on higher-value tasks -- resulting in a successful Investor Day."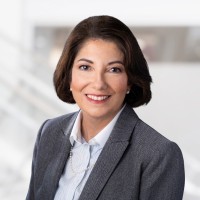 Theresa Womble
VP Of Investor Relations
Armstrong Worldwide Industries
Common Investor Day Presentation Mistakes
We've seen a lot of Investor Day presentations. Here are some of the most common places where IROs get tripped up.
Learn More About How We Create Impactful Investor Presentations
To view samples of our Investor Day presentation designs and learn more about how we work, download the OUTKREATE IR Solutions Deck.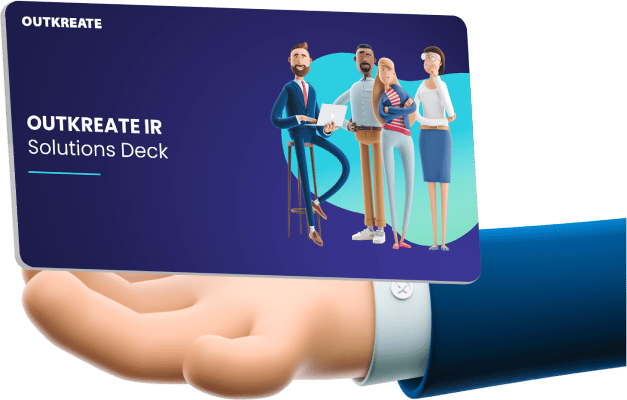 How Outkreate Works with Clients
We'll start working with you early in the planning process for your Investor Day. We can help you save time by avoiding common pitfalls when it comes to developing your main message, agenda, and initial story structure.
Our first goal is to understand how you define success for your high-stakes investor day event. That will influence how we handle the details in the subsequent steps.
Based on where you are with your main message, we'll apply our external perspective to refine it further. 
We can also advise on the agenda, high-level flow, and structure of your Investor Days, Analyst Day, or Capital Markets Day presentations.
We'll also suggest proven frameworks and story principles to optimize the flow and structure of your presentation.
IROs and business leaders are typically left-brained, whereas slide design is a right-brain activity best left to specialized talent. Yet although in-house design teams can create great Sales and Marketing materials, they typically struggle with conveying strategic information clearly and logically to an IR audience. To communicate your important information most effectively, trust the experts that specialize in IR presentation design.
Investor Day Presentation Case Study
Project
Challenges
What We Did
Outcome
Project
A mid-cap client in the Technology space contacted us for help with their upcoming Investor Day. Based on perception studies and guidance from the IRO, we established that their goal for Investor Day was to paint a clear picture of the company's growing addressable market, and how it planned to capture untapped opportunities. It was also important to convey how their strategy would help them grow above market over the coming three years.
Challenges
What We Did
Outcome
"Verra Mobility engaged Outkreate for our July 2022 Investor Day and we were incredibly pleased with the results. Outkreate delivered a visually appealing presentation that was highly effective at telling our story. Beyond design expertise, they brought strong business acumen and strategic thinking. Process was efficient and required very little oversight."
How Do Your Investor Presentations Measure Up?
To upgrade your high-stakes Investor materials, request an OUTKREATE Presentation Assessment. This consultation is exclusively for Public Company IROs.
We'll walk through your investor deck in a complimentary 45-minute call. You'll get objective, actionable feedback to help you communicate your message more effectively.