6 Tips to Make Virtual Presentations Your Superpower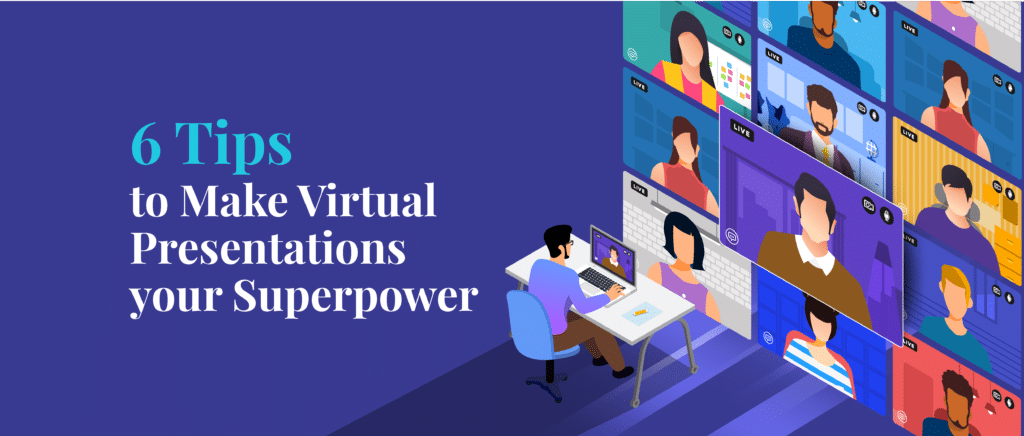 COVID-19 has forced business leaders to find a way to transition into the world of remote work successfully.
Virtual meetings and presentations are more critical than ever, but not everyone knows the right way to tackle them.
The truth is, they don't have to be a hurdle. Virtual presentations can be an incredible asset if you approach them the right way.
Here are six ways that you can make virtual presentations your new superpower.
01
Know the technology (and presentation) like the back of your hand.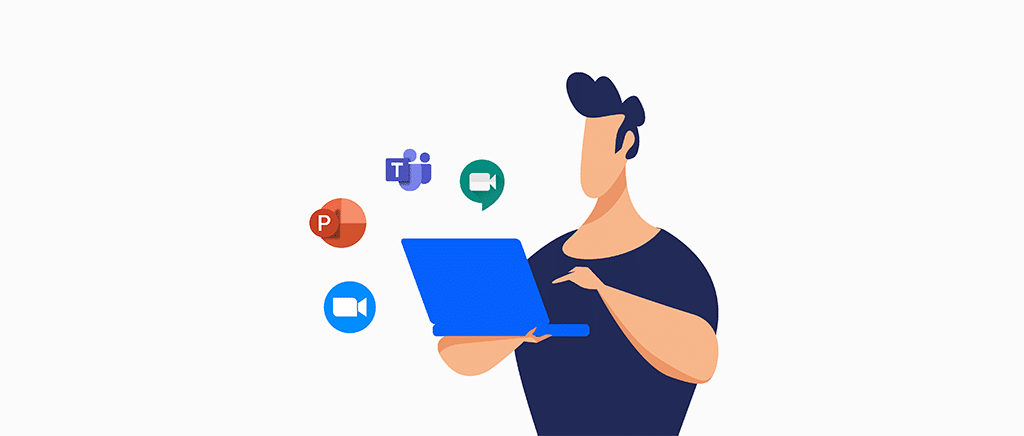 Nothing will lose the attention of your team or client faster than fumbling with the technology or stumbling through your slides. Especially when you're prepping for a major presentation for a valuable partner, it's essential to do a few run-throughs beforehand.
Run through the slideshow, familiarize yourself with the meeting platform you're using, and make sure you feel 100% comfortable with how everything is supposed to play out.
If technology is not your thing, get someone who's better equipped for the job to run the presentation for you. That way, you can focus all your attention on your delivery.
02
Designate spaces for discussion and engagement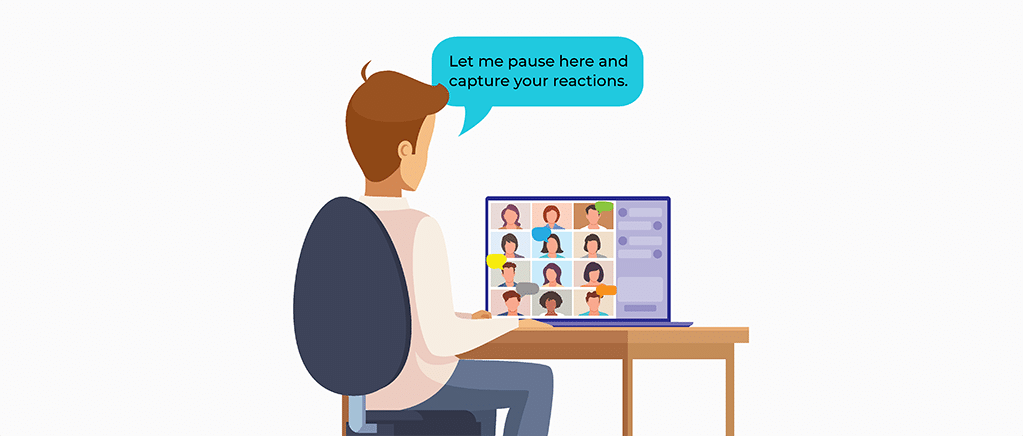 When you do that initial run-through, keep one thing in mind: it can be tough to read a room when you're not actually in a room with anyone. It's easy to fly through presentations too quickly when you're doing them remotely, going from slide to slide without really taking in your audience's reactions.
Having designated spaces to stop and ask for feedback (every 5 slides or every 5 minutes, for example) is an easy way to make sure that you don't forget to let your audiences ask questions and engage.
Consider a few classic tricks to keep everyone involved – add polls, ask questions, encourage hand raising, etc.
03
Gamify your presentations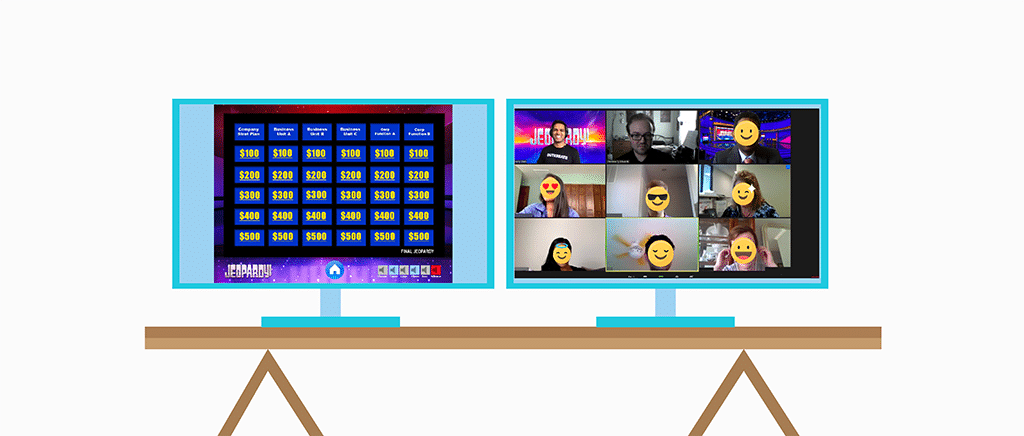 In a few different client situations, we've used Jeopardy and Family Feud games built on PowerPoint to help clients share their message with their audience in an interactive and fun manner. And it's incredibly effective.
What if you want to reinforce your company strategy or a detailed business plan with your teams, but aren't sure how to really grab their attention?
Our suggestion, turn it into a 15 to 30-question Jeopardy game (with real prizes!). Not only will your audience actually get excited about participating, but they'll also be super aware of your plan by the end of the game. Plus, they'll remember you for pulling off something unique!
If there's one thing that there seems to be a consensus about among so many new remote-workers, it's that virtual meetings can get tedious pretty quickly. That's why it's critical to keep your presentations short, but high-impact.
Get to the point!
The surest way to keep everyone's attention is to get through your points as quickly as possible, without sacrificing the heart of what it is you have to say. Your message is, of course, the most important thing, but the faster you can get through it (by boiling it down to the most essential elements) the more impact you'll have.
Anything over 45-60 minutes can very quickly cross into tedious territory.
That said, getting your presentation done in under 45 minutes isn't always an option. If that's the case, see tip #4.
If you're putting together lengthy meetings (e.g. training, annual Sales event, Board of Directors meeting) then consider spreading those out over multiple days and make sure that you provide frequent breaks. Now that you don't have to travel or stay in hotels, it's not necessary to cram everything into one long-lasting event.
Spreading meetings out over several days gives even more opportunities for teammates or clients to dig into the topics you've presented and come back with fresh, innovative ideas.
Giving your team some time to regroup and re-energize offers plenty of benefits. Not only will your audience be more engaged when they return, but they could come back with a host of new ideas that they wouldn't have generated if they had been forced to think on the spot.
06
Make it visually impactful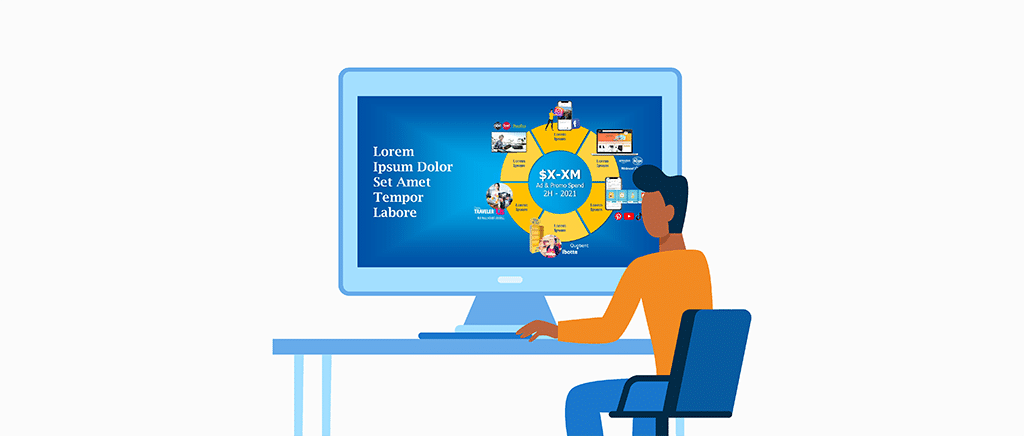 One of the most crucial questions to ask yourself when you're prepping for a big presentation is whether or not it's designed to catch people's attention. If not, you might lose your audience a lot faster than you think.
Large blocks of text aren't exciting.
No one wants to stare at a dull screen for hours on end. For our client's presentations, we utilize the right mix of photos, short videos, animation along with text and statistics to keep everyone's attention on your screen.
If all of this is overwhelming, don't fret. We can help.
We built our company because we know how crucial it is for business leaders to deliver memorable, high-impact presentations. The key to getting a pat on the back from your stakeholders is on-point messaging and engaging meeting experience. But, not everyone has the time to make that a reality.
By delegating your meeting deck to a company that specializes in presentations, you're not only taking a burden off your shoulders but also ensuring that you get the best results possible every single time.
Try out these six tips or feel free to reach out to discuss how Outkreate can help!