Your Experienced PowerPoint Design Services Firm
Outkreate's PowerPoint design services help you clarify your message, elevate your story, and design the compelling presentation you need. 
Whether you're an executive preparing for a keynote, an analyst with a quarterly report on the horizon, or an investor relations officer preparing for an Investor Day, our best-in-class PowerPoint presentations build engagement and excitement in clients, stakeholders, and employees.
The key? Our presentation experts deliver laser-focused content and visuals, all while treating your materials with the care and precision they deserve. But our process doesn't stop at content and design. We also work with your team on messaging and structure to ensure your presentation has a flow that captivates your audience.

We work with clients on projects like:
Major Public Companies
Trust OUTKREATE's PowerPoint Design Services
Why Companies Delegate PowerPoint Presentation Design
Many companies work with us even though they have an in-house design team. Internal design teams specializing in communications or marketing don't necessarily specialize in presentations—and even if they do, your design needs may get slotted behind other urgent internal work.
Working with Outkreate helps our clients focus on what they're best at—without spending too much time on what they're merely "good" at.
Outkreate's hyper-specialization in corporate presentation design gives us a number of unique advantages:
We've developed proprietary best practices
We've enhanced messaging, content, and visual design for a number of large public companies. When it comes to high-stakes presentations, we understand what it takes to create a successful outcome. By working with us and gaining access to our best practices and depth of experience, you'll take uncertainty off the table.
We'll advise you on impactful messaging
Stunning, modern slide design is part of the equation—but it's a complement to impactful messaging, not a replacement for it. While we won't tell you what to say, we'll advise you on how to incorporate your key messages. We'll also work with you on the story and structure of your presentation, while making your content clearer and more emotionally engaging through visual storytelling.
We help you focus on higher-impact tasks
Getting into the nuts and bolts of presentation design isn't the best use of your time. Even so, many executives find themselves dwelling on the details of individual slides. Your projects have a better chance of success when you're able to focus on the 30,000 foot view, rather than focusing on the tactical details of presentation design.

"The Outkreate team has been a great partner -- helping us communicate our business strategy and vision to internal and external stakeholders. I know that I can count on them to deliver a fantastic looking presentation that is clear and concise."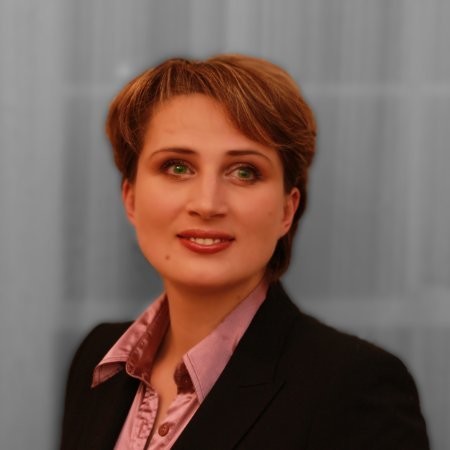 Zhenya Korkina
Head of Variety Pack and On The Go,
Ferrara Candy Company
"The Outkreate team's unique strength is to "simplify" complexity especially when leveraging data and insights. The presentations were spot-on and helped convey our value proposition to our customers successfully."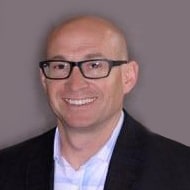 Josh O'Kane
Director, Category Management
The Hershey Company
"Outkreate has been a critical resource for marketing and corporate communication teams in building presentations, internal sell stories, videos and other creative assets to help tell effective stories. Harry's team knows Ferrara and helps synthesize our story through effective communication and works FAST!"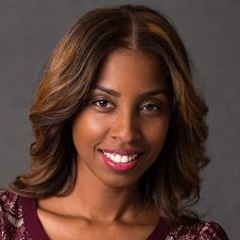 Lena Lewis
Sr. Director, Consumer Engagement,
Ferrara Candy Company
Common PowerPoint Presentation Design Challenges
You're an expert in your field, but creating a knockout presentation is a different skill set entirely. 
Here are some common PowerPoint presentation design mistakes we see:
Learn more about our PowerPoint design services
To view samples of our work and our pricing structure, download the OUTKREATE IR Solutions Deck.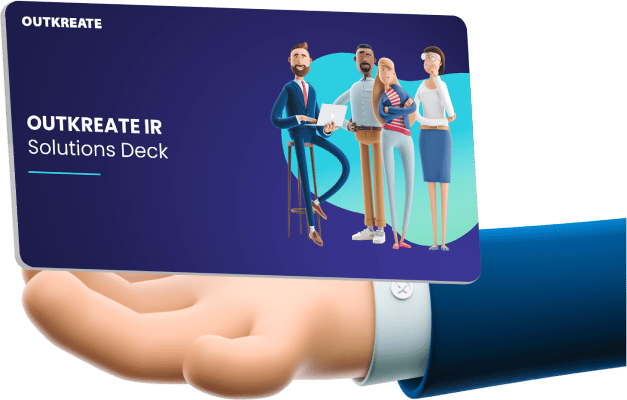 How Outkreate Works With Clients
If you need a Powerpoint design for an upcoming presentation, it's best for us to start working together as soon as possible. This allows us to play an advisory role based on the best practices we've developed. We can help you save time by avoiding common pitfalls in design, messaging, and structure.
Here's how a typical engagement works for us:
Our first goal is to learn the objectives for your presentation. We'll also work to understand your audience, any challenges you're facing, and other critical information affecting the presentation.
During this process, we can help you establish the main messages you're delivering to your audience. We'll also consult on the high-level flow and structure of your PowerPoint presentation. We don't advise you on what to say. Rather, we help you tell your story in a more clear and impactful way.
On individual slides, our primary goal is to ensure clarity. We follow the three-second rule—the main message of each slide should be understood by your audience within three seconds. Limiting slides to only one main message, incorporating takeaways in the headlines, and visualizing data in an easy-to-understand way are just a few ways to accomplish this.
We'll modernize the look of your presentation or template, all while staying within brand guidelines. We also take into consideration the delivery method of your presentation. Will it be delivered in front of a live audience, a virtual/hybrid audience, or be sent to analysts or employees to read on their own? We design slides to suit each of those situations.
We follow an iterative design process. A great deck gets better via iterations. We operate with your organization seamlessly, just like your in-house designers would, as you iterate the slides in conjunction with your management team. 
PowerPoint Designs That Drive Results
When a presentation is professionally designed and visually impactful, it creates a strong first impression with your audience and keeps them engaged. That's the power of design.
If you're ready to improve your PowerPoint presentation designs, let's have a conversation to understand how we can work together to communicate your message more effectively.
Book a 1v1 session with Harry, where he will walk through your PowerPoint presentation and provide actionable feedback to elevate it.